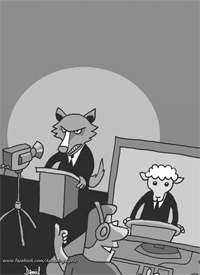 Last week Egypt made headlines once again as usual in a negative way. A British tourist revealed that she was raped in Sharm El sheikh by some hotel guard.
Amazingly we got a confession from the ministry of tourism that this was not the first case and it happened before !!!
At the same time the British press spoke about this scandal , our conspiracy theory media refuted the case.
TV host Naela Amara , who is a media university professor working in a TV channel supposedly owned by liberal advertising tycoon Tarek Nour described the rape of the British tourist as a "comedy".
Amara who always speaks about global western conspiracies said that the British tourist continued her trip easily and that the whole matter is simple !!?
Rape is simple now !! What is difference between someone like Amara and those conservative radical Islamists !? Nothing !!
This was just two weeks after the sexual harassment scandal in Cairo university by the way. Again the woman is here to be blamed.
How can we fight sexual harassment when our media and TV channels are blaming the victims and women !? If we want to fight sexual harassment then we must start with the media. From talk shows to films , ads and songs , we got a whole culture that should be stopped and changed. Already I cannot ignore media assholes like Amara and Tamer Amin.
Ok I understand Amin is a stupid man with conservative misogynistic views , what about the educated university female professor working allegedly in so-called liberal TV channel ?! "Actually Qahera wel Nas is more of Fox News but without the conservative religious tough"
I am not speaking about politics here but I am speaking about social norms and traditions that should be changed. It is so provoking.
Just watch that translated video of young boys in Cairo speaking about sexual harassment and you will know what I mean. It is frustrating.
Ironically at the same time Egyptian authorities were investigating the British tourist's case , we found out that prosecutor general of Egypt referred a policeman to criminal court in Ismailia for attempted rape of a Russian tourist in Sharm El Sheikh early March. We found also ministry of tourism revoking the license of two resorts "Hilton Sharks" and "Sharm Holiday" in Sharm El sheikh for the spread of sexual harassment there.
From what I see the ministry of tourism is just like any governmental institution in this country. It seems that we have a huge problem when it comes to sexual harassment in tourism sector but it only reacted after the disaster.
I do not need to say that this is just another big blow to tourism in Egypt.
Of course when we speak about rape here , we are speaking about a new level of sexual abuse.
Dear Shady Hussein directed and produced this video about sexual harassment in the Arab world, it was shot in Amman, Jordan. Once again social media is fighting a war against sexual harassment where as mainstream media is enforcing sexual harassment.
Zenobia call us to start to fight the most crowedly social disease: sexual harassement.
To read the full article:
http://egyptianchronicles.blogspot.com/2014/03/endsh-let-fight-it-properly-let-start.html#more