Blog: Mostafa Sheshtawy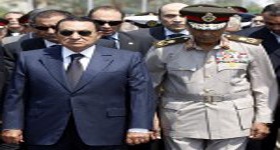 Blogger: Mostafa Sheshtawy
URL: http://msheshtawy.com
As part of the online campaign against the country's military leadership, 23-years-old Mostafa El-Sheshtawy thinks there is no difference between the Army and the ousted tyrant Mubarak.
SCAF is the New Mubarak #NoSCAF
http://tinyurl.com/3j4geqs
This post is simply a comparison between Back then in the Mubarak days and Now in the SCAF days.
Back then, in the Mubarak days Protesters used to be beaten up by the SCF and arrested then tortured by them in the prisons.
Now the Army arrest the protesters , beat them up and torture them in their military prisons.
Back Then , The resistance used to always get trials and have their people in prisons for a while, scaring off other resistance and teaching them a lesson.
Now The SCAF put the "free protesters" -I'm quoting the SCAF it self – and put them in military trials and make them spend their youth in Jail, and if not give them a verdict with suspension just in case they wanna screw with them. Why !? to scare the rest of the protesters and to keep the mouthes SHUT.
Back then, The corrupt never gets trialled or even when they do, they magically get out.
Now, Mubarak, Suzan, Ezz, Azmy, Adly and the list goes on … No one have been prosecuted yet ! Not even one verdict on the trails we want such us Killing the protesters and stealing the public money. Which now some newspapers say that Mubarak and his family own few millions, no billions !!!!!
Back then, I was scared to speak up my mind in public or try to resist because there is State Security, that can look me up and screw my life in a second.
Now , I'm still scared to speak up my mind in public ! Why ? Because now there is army who can Screw my life in a second and no one can get me out of it ! (Military Trials)
Back then , The country wasn't really rich , or the economy was perfect, people were stealing from EVERYWHERE !
Now , SAME ! and the corrupt still free !
So what DID change ? Why is the SCAF still in control ? Is it pride ? they will seam weak if they leave the control to someone else ? I find almost every demand of Jan25 still not met ! Only the leave of Mubarak , and after writing this , He is not really gone YET !
I'm glad we have a "strong army" but please I don't want to see you unless we have a war, or unless i'm cursed enough to be enrolled this year !
See you Friday May27