This was a long day and I have just returned back home ready to write about what happened in the universities especially in my university Cairo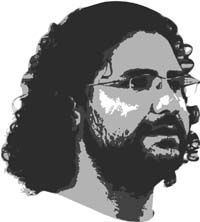 university that lost one of its students today , I returned to read Manal Hassan saying that her husband Alaa Abdel Fatah was arrested from their house.
Not only he was arrested but Manal was physically assaulted by the police force. They also confiscated their mobile phones and laptops. Luckily their  son Khaled  was sleeping in another room.
There was an eye witness living in the same street who saw the arrest of Alaa . This time he was arrested by special forces !!  !!
Galal Raafat : They arrested Alaa Abdel Fatah in front of my eyes. 5 police vehicles and more than 40 soliders , all this these because someone said his opinion online.
Already last Wednesday the public prosecutor ordered the arrest of Alaa Abdel Fatah and April 6 Youth founder Ahmed Maher for inciting the No for military trial protest on Tuesday.
By the way some say that Alaa was not officially notified and did not receive anything from the prosecutor's office as he has to be informed. Already Alaa announced that he would hand himself over to the prosecutor's office on Saturday in a statement published on Wednesday.
Dr. Laila Soueif , his mother and long time activist has stated that they do not know where Alaa was taken to. Dr. Laila was in the morgue with the body of late Mohamed Reda , the Cairo University student shot today in Campus during the clashes between students and security forces.
Mona Seif , his sister confirmed that they managed to allocate him in some CSF camp.
Now personally I think there is a pre-made scenario concerning Alaa as in the past two week there was a campaign against him started with fake Mossad membership document leaked online "oh yes"  then you got the campaign against his views about Sheikh El Sharawy. It is not a big secret that Alaa does not respect the late Sheikh and he called him names on his twitter game. The media whether Press or TV took that tweet insulting El Sharawy and began attacking him specifically last week. So yes the media in Egypt is turning Alaa in to the bad Mossad atheist anarchic spy and people buy this.
Today by the way at about 6 PM the MOI sent an email to journalists with the tweet which called people to join the protest.
Again the No for military trials campaign is the one that called for this protest before anyone.
This is not about a freaking unauthorized protest with my all due respect.
Now all the TV channels are attacking Alaa saying that he is working to bring down the Egyptian State.
By the way anyone is tweeting anything in English is attacked. Manal was attacked madly and systematically , I do not know if we are talking about group thinking or some sort organized action.
Alaa should return back to Manal and Khaled.