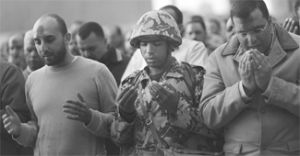 Earlier Saturday we woke on another terrible news , another 6 Egyptian conscripts from Military Police were killed in a military checkpoint in the city of Mostord , Qaliubyia gveronorate .
The 6 young men were killed in cold blood. According to the first Armed forces' official spokesperson's first statement they were killed while they were praying but now according to shocking photos published in the news websites with no respect to the families of those martyrs , it seemed that some of them were shot in their beds. This was even more alarming by all measures.
No words can express the sadness and anger , after all another 6 young Egyptian young men from Sohag , from the working class that suffers a lot already and pays the price of politics once again getting killed in every possible way whether in terrorism or torture or in work or in sea or in another country. May Allah bless their souls and bring patience to their families
Of course I want to comment about the photos of the late soldiers in the crime scene. Who allowed this to happen and why !? This is a crime scene and according to to my knowledge such photos should not be accessible to press like in the first 24 hours not to mention such photos actually can affect the morale of other soldiers.
If you think that those photos will make the conscripts determinant and angry , well I have to tell you humans are not one and some may receive it in a negative way. The attack is horrifying yet it forces me to ask many questions as a citizen.
When will there be full transparency and accountability to Egypt's war on terrorism policy in the past 6 months !?
Clearly there is something wrong because so far the attacks have not stopped. It is worth to mention that the Deputy prime minister for security in Egypt is none other the minister of defense and Presidential hopeful who asked for some kind of mandate to erase terrorism
In any respectable democratic country both the ministers of defense and interior would be sitting right now in front of the National security committee in a real elected parliament to discuss the development of that war they declared on terrorism.
Why were not there enough security precautions when a terrorist group like Ansar Beit Al Maqids released a video 48 hours prior to the operation ??
Ansar Beit Al Maqids released a very alarming video last Thursday which deserves a whole post, hopefully I will write it this week.
I am not a security expert but this attack reminds so much with the first attack against our soldiers in Sinai in August 2012 when they were killed while they were eating their Ramadan breakfast. That horrifying attack should have taught us something .
I know I sound crazy to ask these questions but someone has to ask them. I think we got huge intelligence problem , big intelligence problem with both meanings whether "intelligence" as a gift of God to humans or "intelligence" as in a security concept.
Amazingly we found security experts from ex-police and army generals who realized suddenly that that operation was an extension of Ansar Beit Al Maqids' operations in Sinai and that their operations are reaching now to the Nile valley !! Interesting those experts forget that in the past 4 months Ansar Beit Al Maqids claimed responsibility for 3 big terrorist attacks including
Another thing I can not ignore now is how the murder of these soldiers is being used by the Pro-Military supporters online to attack their political opponents from the Pro-democracy camp. For no real reason we found a comparison on how the bad Pro-democracy camp cared for the victims of Saint Catherine mount tragedy or how we spoke about Bassem Youssef's show last Friday. I do not know what the relation can be.
Very cheap political blackmail that actually insults those young men.
On the other hand now I am reading in Muslim Brotherhood websites that these young men were killed not in terrorist attack but rather in some of criminal attack in a war between criminal gangs and police. Well even if this were true , I am afraid then we are having a huge security problem.
I feel angry and sad. I feel that way because I know that blood is another river in Egypt and unfortunately blood is being used by all sides for the sake of power.
Zienobia wrote on her blog, Egyptian Chronicles, in 16th march, asking about the last shooting of the egyptians Soldiers: Who allowed this to happen and why?!
To read the full article:
http://egyptianchronicles.blogspot.com/2014/03/regarding-shooting-of-soldiers.html